Infrastructure & Clients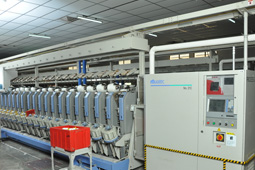 We started with a spindle capacity of 40,000 and now with our ever untiring toil, we have achieved the capacity of 55000 spindles within a relatively short period of time.
Our quality control machines and infrastructure with skilled work force, has brought us reputation to cross international borders in a quick time, where they blindly prefer our products.
Our clients are geographically placed in BANGLADESH, BRAZIL, BULGARIA, CHILE, EGYPT, GERMANY, GREECE, IRAN, ISRAEL, ITALY, LITUANIA, MEXICO, MOROCCO, POLAND, PORTUGAL, S. AFRICA, SPAIN, TURKEY, U.S.A., UK, Colombia, Chille  etc..
Our reputation as leading spinners is expanding and recognized globally because of our penchant for quality. Stringent quality checks, delivery on time, skilled and well trained workforce ensures that we are constantly in the lead.
J.P.P Machinery Details
BLOW ROOM:
TRUTZSCHULER
LMW

CARDING:
TRUTZSCHULER - DK 780
LMW - LC 333

DRAWING:
LMW - LDO/6
LMW - RSB 851

COMBER:
LMW - LK250
LMW - LK 64

SPINNING:
LMW - LR6/S
LMW - LR60/AX
LYCRA ATTACHMENT
SLUB ATTACHMENT

AUTOCONER:
SCHLOFHORST 338
MURATEC 21C
SAVIO POLAR

QUALITY CTRL:
USTER TESTER UT5
USTER CLASSIMAT
BLEND CHECKING
Our Products