Products - 100% Bamboo
"Anti-Bacterial 100% bamboo yarn"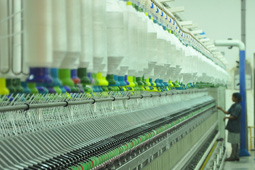 A natural beautiful fibre extracted from nature that wares well to environment and it is naturally anti-bacterial, deodorant, UV protective properties without any chemical treatment, this special natural cluster property of the fibre gives everlasting luster to the fabric with all its qualities, to the perfect weight of the yarn the fabric drapes gradually. Its weight is best suited for spring and summer wears. The yarn in strong in strength, sheen in finest, nowadays Bamboo yarn is getting very popular in the textile industries.
It's a boon to mankind that the Bamboo yarn with its natural property makes fines fabrics, Towels, Socks, intimate wears, T-shirts and Bamboo Bedding Sheets and covers.
Our raw materials for Bamboo fibres are sourced from reputed companies. It is free from any harmful chemical process right from Bamboo wood to Bamboo yarn. It is an eco-friendly fibre yarn.
Qualities:
Incredibly soft and comfortable
Has natural deodorant properties
Comfortable in all temperatures
Ensures durability as it is anti-fungal
Available Counts:
Ne 10's to 50's in Single, Double yarn
SIRO & SLUB Yarns
Ready to dye packages